You must have noticed security guards at banks, parks, museums, malls etc. Whether it's a business establishment or an event, security guards offer valuable protection to people and property. But did you know that you can hire armed security guards or unarmed security guards? Do you know what the difference is between the two types of security guards? For different types of businesses, functions and events, different levels of protection are required.
Below, we discuss in detail the difference between armed and unarmed security guards and which one you should hire. Also, we talk about how much is the cost of hiring these security services.
Why You Need Security Guards Service
Security is an important concern for many businesses, places and locations. Even many famous people such as actors and celebrities hire security guards for their own safety and protection. Security guards are also referred to as bodyguards.
Security companies offer these services in many places. If you are in need of security guards (armed or unarmed), you can get in touch with a security company near you and hire professionals for your protection as per specific need.
Security guards help prevent theft and robberies. Imagine what would happen if there were no security guards at banks? How safe would kids at schools or people at parks and museums feel if there were no security guards in these places. Security guards have made this world a safer place.
The police administration deals with cases of theft and robbery. But the police don't guard every important place round the clock. The police arrive only after a complaint is lodged. Until the police arrive on the scene, it is the security personnel who guard a place or property. Security guards also take care of who should enter a secure area and who shouldn't.
Security guards can be hired to protect any important place, commercial building, school, individual, etc. They are competent professionals who are well-trained to deal with a variety of difficult situations.
Celebrities and famous personalities also need the services of security guards. When these people go out to attend a public event or deliver a speech on a public platform, they often hire security guards.
Security guards have an important responsibility to handle.
Hiring these professionals brings a number of benefits.
Sense of security
Great Deterrent to crimes
Actively respond to criminal activities
Monitoring
The presence of armed or unarmed security guards at the gates of a company or business establishment creates a sense of security. Whether it is employees or customers of the company, they have peace of mind. They know that someone who is professionally trained is protecting them. More importantly, the placement of security guards tells your customers that you really care. Having security guards is also a great deterrent for criminals. Robbers and thieves think twice before they want to target a business that is guarded by trained security guards.
Professional security guards are well-trained to respond to a wide range of situations that may arise in a place. They have the ability to quickly evaluate a security breach and respond to the situation effectively. Security guards are of much greater value than that of a video surveillance system.
Difference Between Armed and Unarmed Security Guards
Before you hire security guards, you need to know a number of things so that you can make the right decision. The security guards should be professionally trained, certified and they should have adequate experience. Furthermore, you need to understand the differences between armed and unarmed security guards and find out which one is the best choice in your line of business.
Armed Security Guards
Whether you should hire armed security depends on what type of business you have and what degree of protection you need. You should conduct a risk assessment of your business. If you have a high-risk business, you need to hire the services of armed guards.
Armed security guards work both for public and private companies. If you are a finance company or you operate in the banking sector, hiring armed security guards is critically important for your business.
So, these businesses need armed guards for security. Armed security guards are licensed to carry weapons or firearms. These guards are trained in the use of firearms, and so they can use these weapons as per need of the situation.
If you run a business in an area with a high crime rate, you'll need to hire armed security guards. For businesses that deal in money, jewelry or expensive merchandise, a greater level of security is required.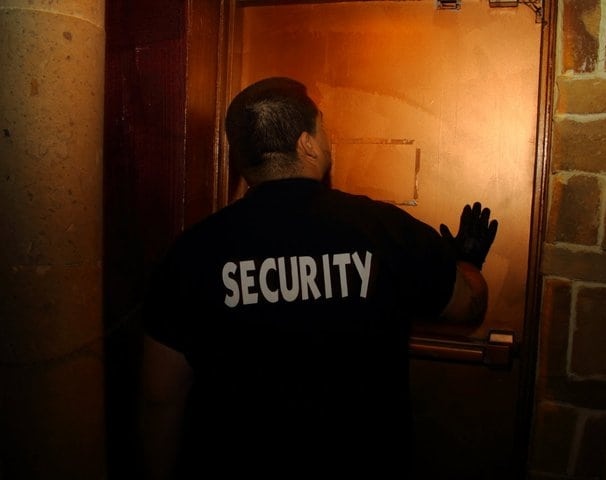 Security companies often recruit retired military personnel or retired police officers for the position of security guards. In this case, security companies don't need to train the new joiners because they are already trained and experienced. When you hire armed security guards for your business, you can be confident that you'll get a high level of protection against suspicious or criminal activities.
If the recruits have never worked in the military or police department, they'll need to complete the training program before they are fully inducted into the job of armed security guards.
Security companies vet applicants on the basis of numerous criteria that they have for selection. Some of these requirements include being at least 18 years of age and having a high school diploma. More importantly, the applicant should have a clean criminal record. Many security companies may need applicants to possess a degree in criminal justice or police science.
When hiring for the positions of armed security guards, security companies act with due diligence and make sure that only the best applicants are taken in.
Security companies often train new recruits in areas such as crime prevention, law enforcement, use of firearms, gun laws, the use of non-lethal weapons, the response in emergency situations, etc.
Many security companies conduct simulations to effectively test and train security guards. Apart from completing these training programs, armed security guards also need to acquire certification and licensing from their state of residence. Armed security guards are required to function in accordance with the rules and regulations of the state.
Unarmed Security Guards
Unarmed security guards are those guards that don't carry a firearm, as it is evident from the name. These security guards are more common and they can be frequently seen at different places. They are hired to protect both people as well as properties and assets.
Unarmed security guards are not trained in the use of firearms. Neither do they have the license from the state department to carry these weapons. These security guards try to diffuse a situation with their bare hands.
If you run a low-risk business or deal in products that are not precious, you can hire unarmed security jobs for protection against theft or other such activities. In terms of costs too, unarmed guards are quite affordable to hire for a wide range of businesses.
When you already have a surveillance system and want to add an additional layer of security to your business and property, hiring unarmed security guards could be the right option for you.
If you have recently felt that some unexpected security risks have arisen, you may want to hire unarmed security guards. These guards are a perfect choice if you are faced with a low-security threat. Unarmed security guards are usually required for general surveillance, managing and monitoring entry access and preventing retail loss among others.
You must have seen unarmed security guards deployed for traffic control. If you don't have a big budget and still need security and protection, you should hire unarmed security guards.
Unarmed security guards are quite useful for most of the security needs that you may have on a day-to-day basis. It is more expensive to hire armed security guards due to a number of reasons which include factors such as licensing, certification, advanced training, insurance, etc.
If your purpose of hiring security guards is to create a sense of security and deter crime at your business location, unarmed guards can be equally effective.
If a criminal sees a security guard at a shop, retail store or another business establishment, they can't be sure if the security guard you have is armed.
What thieves and robbers fear the most is the risk of being caught. So, criminals will not take this risk just to be sure whether your security guard has a firearm. If you are facing low-risk levels, unarmed security guards can serve the purpose quite well.
Persons aspiring to become unarmed security guards need to fulfill some criteria, set by security companies and the state. The minimum age requirement for this job is 18 years. A high school diploma is also essential to land the job of a security guard. A background check will be conducted to ensure you have a clean criminal background.
To become a security guard, you need to complete around 40 hours of training. After you have gone through the first 8 hours of training, you can be eligible to start work. But you'll receive your security guard certification only after completing the full training program. These courses are available at a community college. Many private companies also offer training for becoming security guards.
In many business places, having armed security guards can also intimidate employees and customers. Armed security guards are essential for those businesses that deal with money or precious products.
In all other places, unarmed security guards are a good match for usual security needs. If you don't want to hurt the image of your business, you should just hire unarmed security guards. This will give you the needed security while fostering a calm environment.
Cost of Hiring Security Guards
The cost of hiring security guards depends on a number of factors. Before you decide to go for armed or unarmed security guards, you should definitely take the involved costs into consideration.
Armed guards cost more than unarmed guards. Armed guards are highly-trained and they carry lots of relevant experience. Most of these guards belong to either the military or police department. After they retire from service, they choose to take up these jobs as armed security guards.
When hiring security guards, you also need to think about the period for which you are going to need these services. If it is just an event, security guards will be required for a very short period. At apartments, commercial buildings and business establishments, security guards are needed on an everyday basis. Expenses will be higher in this case.
What type of security guards you should hire also depends on the degree of protection you or your business needs. If you have a business in a high-risk site, you may need to hire armed security guards.
Political leaders hire armed security guards for the highest level of protection at rallies and public gatherings. Another factor that plays a key role in this regard is the time of day. Security guards who work during night time are costlier than those that guard places during the day.
Talk to Experts to Discuss Your Security Needs
If you are planning to hire security guards for a club, museum, park, apartment complex, restaurant or other business establishments, you should get in touch with experts for a detailed discussion.
Tribe Security is a highly reputed company that offers all types of security guards. Based in Chicago, Illinois, the security company is known for offering top-notch security services such as venue protection, retail security, exterior patrol, event security, building protection, etc.
Fix an appointment for a free consultation with security experts at Tribe Security. They'll evaluate your specific security needs and the level of protection you need and suggest the most suitable solution.
For Tribe Security, the satisfaction of clients is the prime concern. This is a security company that has mastered the art of protecting people and assets through years of dedication and experience. They truly understand the critical importance of safety and security in today's world.
Whether you need armed or unarmed security guards, you can always feel confident that Tribe Security will take great care of your needs and give you complete peace of mind.