As per your specific needs, you can choose to hire either concierges or security guards. You must have seen both a concierge and a security guard.
Security of people and assets is an important concern. Whether it is an apartment building, office or hotel, you should never ignore its security. There are trained security professionals available to perform these tasks.
But do you know the difference between the two in regard to the services they perform?
Though some of the duties of a concierge can be similar to that of a security guard, they are different from each other. It is not difficult to understand the difference between the two professionals.
Let us discuss this topic in detail so that you know quite well which one you should choose.
What Does a Concierge Do?
A concierge is an individual or a company that offers personal assistance to make life easy for clients.
You can hire these trained professionals to take care of various aspects of your life such as household management, travel planning, booking restaurants, etc.
In fact, there are many other everyday tasks that concierges can help you manage so you have more free time.
In today's world, business owners as well as working professionals are pressed for time. They find it difficult to deal with all of their everyday tasks on their own.
They wish someone could help them with where to go for a holiday, where to stay and where to eat among others. They want assistance with finding the best gym or a reputed cleaner.
That is exactly why concierge services have come up and evolved over the years.
There was a time when concierges were only used in hotels and luxury apartments. But today, the services of a concierge have expanded and there are several other places where they are needed and hired.
Different types of concierge services include:
Lifestyle concierge
Hotel concierge
Travel concierge
Wedding concierge
Chauffeur concierge
Concierge security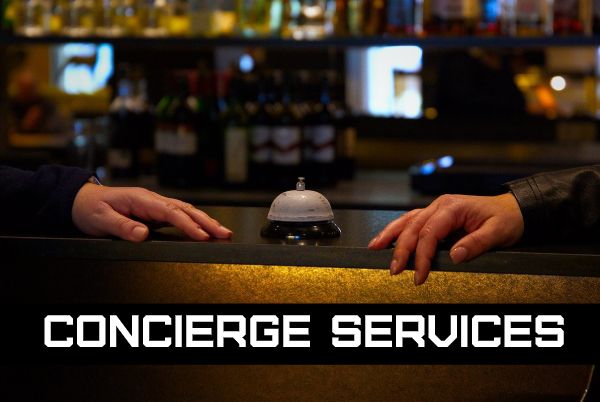 There are many other services that concierges can handle. The main purpose of a concierge is to complete a range of tasks on your behalf so that you don't have to worry about all these. There are several benefits to hiring a concierge.
If you plan to hire a concierge, you can get in touch with a security service provider in your area. If you are living in Chicago, feel free to give Tribe Security a quick call for hiring expert and trained concierges for your specific needs.
Corporate Concierge Services
Today, you have concierge services available for almost any industry. Whether it is business, travel, entertainment or hospitality, hiring concierges makes your day-to-day tasks easy to manage. For example, corporate concierge services are particularly aimed at fulfilling a wide range of business needs.
These concierges are available for businesses of all sizes, from small and medium businesses to senior-level executives of big companies. CEOs, COOs, Chief Financial Officers, Presidents and Vice Presidents of large companies often use the service concierge security officer s of corporate concierges.
By hiring a concierge security officer or concierge security guard, you can kill two birds with one stone – manage tasks and enhance security.
Corporate concierge services and concierge security services can bring a number of benefits to your company and clients. Hiring a corporate concierge actually means adding an extra level of service to your existing services.
This additional service enables you to gain a quick edge over your competitors and increase client loyalty as well as rope in new clients. One of the key benefits of this service is that it gives you an excellent opportunity for client interaction, which in turn helps you know and understand more about the lives of your clients. Corporate concierge services also keep your directors, PAs, and employees happy.
Concierges carry a set of essential skills such as critical thinking, problem solving, clear and effective communication, patience multitasking, etc. Most of all, they have a positive attitude. Regardless of which aspect of your life you need help with, concierges can make your life both easy and fun.
Let's Talk About Your Security Needs
What Does a Security Guard Do?
A security guard is a well-trained professional whose duty is to protect property and assets. They closely monitor and control the entry of people to residential and commercial buildings.
They have a well-rounded knowledge of using safety alarms and surveillance systems. In an emergency, they respond in an effective manner while abiding by the state and federal laws.
Security guards remain vigilant and active at all times. At any location of the property, they patrol the area and keep an eye out for any kind of suspicious activity.
The purpose of hiring security guards is to prevent the occurrence of illegal activities and crime.
Security guards are competent professionals who have the capability of dealing with a wide range of difficult situations.
The mere presence of security guards at a location acts as a deterrent for perpetrators. These professionals can detain criminals as well as call the police for assistance in an emergency.
Difference between Concierge and Security Guard
Though concierges perform a variety of tasks and make you feel safe as well, they are different from security guards.
First of all, concierges cater to the needs of residents. They are always at the service of residents and do as requested. They control access to buildings but their services are more personal in nature.
Compared to security guards, concierges are much closer to the clients they serve. Apart from offering security, concierges handle an array of other tasks for their clients.
If you have multiple tasks, you can hire concierges for assistance on a daily basis. The duties of a concierge may vary from one building to another. It depends on clients what tasks they want their concierge to handle.
The day-to-day responsibilities of a concierge may include arranging transportation, sourcing tickets for events, making hotel reservations, pet care, planning holidays, greeting visitors, accepting packages, and delivering gifts among others.
Although they are also responsible for looking after some aspects of their client's security, they are not exactly the same as security guards. A concierge is more expensive to hire.
Security guards don't work for residents. They cater to the needs of property managers and focus on all the aspects of safety and security.
These professionals receive training in such crucial areas as law enforcement, crime prevention, gun laws, the response in emergency situations, etc.
Benefits of Concierge Services
All concierge services are aimed at making your life easier. If you intend to free up more of your time and enjoy your life more than before, you should definitely get in touch with a security company to hire a concierge.
Given below are some of the key benefits that a concierge can bring you.
Save Time
If you are a busy professional, doing all the everyday tasks can eat up a lot of your time. It can drain your energy as well. Simply hire a concierge, and they will take good care of all your daily tasks.
This will help you save more time than you can spend with your family and relatives. The best part about a concierge service is that it allows you to enjoy your life in the truest sense.
Convenience
Of course, concierges save you a lot of time. They can help you get a lot of things done quickly and easily. Having a concierge at hand is more about convenience.
Regardless of where you are or what you want to do, a concierge will always make you feel at home. You'll have peace of mind knowing you have someone by your side who can help you run your life.
Access to Exclusive Events
A concierge service handles and completes a number of tasks on your behalf, as per your specific needs. While you may not be able to source tickets to exclusive or members-only events, your concierge service can do it for you.
They can arrange your VIP access to popular events and clubs. They will get you discounts at the best restaurants.
Latest Information
With a concierge at hand, you never have to go anywhere to find what is the latest in town. Whether it is a newly-launched club or restaurant, your hired concierge will keep you up to date.
A concierge is not just well-trained but they also carry sound knowledge and expertise about the best hotels and restaurants in your own city, but other cities and destinations as well.
Emergency Help
There are different types of concierge services to suit the individual needs of clients. Most of all, a concierge service helps you in an emergency situation.
If you are traveling and you lose your baggage, a concierge will help you locate the lost baggage. If you missed your flight or have a medical emergency, your concierge service will take care of it all in an effective manner.
You must have noticed security guards at banks, parks, museums, malls etc. Whether it's a business establishment or an event, security guards offer valuable protection to people and property. But did you know that you can hire armed security guards or unarmed security guards? Do you know what the difference is between the two types of security guards? For different types of businesses, functions and events, different levels of protection are required.
Below, we discuss in detail the difference between armed and unarmed security guards and which one you should hire. Also, we talk about how much is the cost of hiring these security services.
Why You Need Security Guards Service
Security is an important concern for many businesses, places and locations. Even many famous people such as actors and celebrities hire security guards for their own safety and protection. Security guards are also referred to as bodyguards. Security companies offer these services in many places. If you are in need of security guards (armed or unarmed), you can get in touch with a security company near you and hire professionals for your protection as per specific need.
Security guards help prevent theft and robberies. Imagine what would happen if there were no security guards at banks? How safe would kids at schools or people at parks and museums feel if there were no security guards in these places. Security guards have made this world a safer place.
The police administration deals with cases of theft and robbery. But the police don't guard every important place round the clock. The police arrive only after a complaint is lodged. Until the police arrive on the scene, it is the security personnel who guard a place or property. Security guards also take care of who should enter a secure area and who shouldn't. Security guards can be hired to protect any important place, commercial building, school, individual, etc. They are competent professionals who are well-trained to deal with a variety of difficult situations.
Celebrities and famous personalities also need the services of security guards. When these people go out to attend a public event or deliver a speech on a public platform, they often hire security guards.
Security guards have an important responsibility to handle. Hiring these professionals brings a number of benefits.
Sense of security
Great Deterrent to crimes
Actively respond to criminal activities
Monitoring
Presence of armed or unarmed security guards at the gates of a company or business establishment creates a sense of security. Whether it is employees or customers of the company, they have a peace of mind. They know that someone who is professionally trained is protecting them. More importantly, placement of security guards tells your customers that you really care. Having security guards is also a great deterrent for criminals. Robbers and thieves think twice before they want to target a business that is guarded by trained security guards.
Professional security guards are well-trained to respond to a wide range of situations that may arise in a place. They have the ability to quickly evaluate a security breach and respond to the situation effectively. Security guards are of much greater value than that of a video surveillance system.
Concierge Pros and Cons
Having a concierge makes your life worry-free, but you should notice they are not the same as a security guard and have differences.
Concierge Pros
Having a concierge makes your life worry-free. A concierge will receive your guests and visitors and receive packages on your behalf.
They have an important job to perform, as they are the person your guests will meet first while entering a building. So, a concierge can set a good mood and make life fun.
While you have a concierge at hand, you don't have to call multiple vendors for the services that you may need. You have a concierge at your beck and call.
Just tell your concierge what you want, and they'll get it all done while giving you complete peace of mind. If you are a business owner, you can impress your clients with the sophisticated presence of concierges.
They'll greet your clients at the door and take care of your car parking. A concierge is actually quite a versatile professional. Think of your concierge as a friendly gatekeeper. An important part of the job of a concierge is to ensure the safety of the residents of a building.
A concierge brings residents and business owners a great mix of safety and hospitality in a way that also makes a good impression. If you manage a property or run a company that has a need for more casual security while having an assistant at your beck and call, a concierge is best.
Concierge Cons
While concierges give your place or premises a touch or professionalism, they are not the same as security guards. A concierge greets and welcomes guests at the entry to a building.
But it is not their duty to stop and question visitors. This can sometimes create issues. If the concierge is well-trained and qualified, you can feel confident that no such issues or problems will arise.
On the client's part, it is important to understand the job duties of a concierge. While a concierge manages so many things, you should remember not to ask them to do a task that is beyond their job role.
Another minus side to hiring a concierge is the cost. However, the money is truly well spent because a concierge is responsible for handling a wide range of tasks on a day to day basis – round the clock.
If you have a property with a host of amenities, the cost of hiring a concierge can increase. For more information, you should get in touch with a concierge service and ask for a quote.
Most security companies offer a free consultation to discuss your specific needs.
Do You Have Additional Questions?
Hopefully, you have understood the difference between concierges and security guards. Each of these services comes with its own benefits.
You need to know exactly what kind and level of assistance you need on an everyday basis. Define the specific needs of your business or property first, and then it will become easier for you to choose which of these services is right for you.
Whether you need a concierge or a security guard, feel free to get in touch with Tribe Security. Having operations in Chicago, Illinois, the security company has built a massive amount of experience in professional security services.
Whether it is about protecting individuals or properties, it ensures the highest level of professionalism and follows strict service protocols.
When working with Tribe Security, you can feel confident that all your security needs will be fulfilled with utmost effectiveness and integrity.
Whether you are looking to hire expert concierges or well-trained security guards, give our office a quick call for a free consultation right away.